CRUISE WITH US TO THE CARIBBEAN
Come join us on this six-day Caribbean cruise on board the beautiful Carnival Dream. The Dream is 1004 feet long weighing 130,000 tons, 15 passenger decks and over 1150 staff and crew to serve you. The Carnival Dream is a unique experi­ence. 
It's one thing to be fun, but it's another thing to be first. Carnival Dream was at the forefront of a recent wave of amazingly innovative and fun Carnival ships. As the genesis of the Dream class, Carnival Dream set the direction for the ships that followed in her footsteps — first Carnival Magic and then Carnival Breeze. 
Get your appetite ready, because you're gonna need it. Carnival Dream features two dual-level dining rooms, a gourmet steakhouse and dedicated sushi spot Bonsai Sushi™. It's also got a full menu of our latest and greatest casual spots for a bite: BlueIguana Cantina™, Pizzeria del Capitano, Guy's Burger Joint™ and Guy's Pig & Anchor Smokehouse™. (That's Guy as in Guy Fieri, by the way — so you know the food's delish.)
During this specially designed cruise, you will experience the best in gospel music, wor­ship, fellowship, food and fun. Sit back and be pampered as you enjoy first-class dining, gourmet meals, daily buffets and all you can eat ice cream and pizza.  
Every day you will enjoy your favorite gospel artist and Spirit filled concerts while at sea a, Hymn sing and All Request Hour, morning chapel services, and lots of fellowship. You will laugh, cry and be blessed! 
SUNDAY 
PORT: Galveston, TX 
DEPART: 3:30 PM 
MONDAY 
Day at Sea 
TUESDAY  
PORT: Costa Maya, Mexico 
WEDNESDAY 
PORT: Belize 
THURSDAY 
PORT: Cozumel, Mexico 
FRIDAY 
Day at Sea 
SATURDAY 
PORT:  Galveston, TX 
ARRIVE: 8AM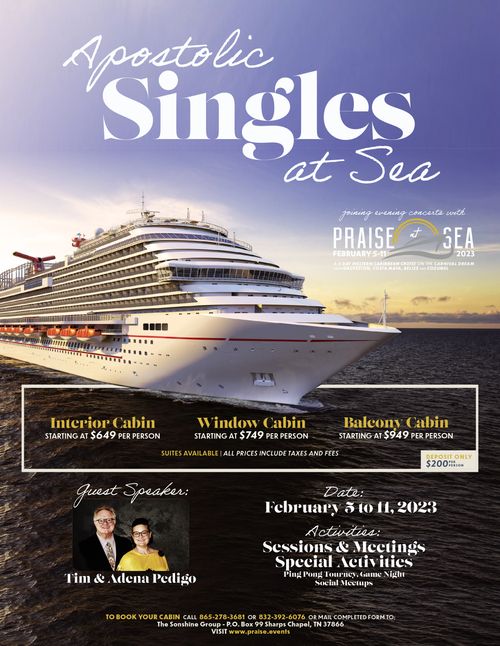 All prices include taxes, tickets to Praise At Sea Cruise guest only concerts, meals, and all the ship's family oriented entertainment. Only passengers ticketed through The SonShine Group will be ad­mitted to concerts. Prices are per person and based on double occupancy. The third and fourth person rate is $449 per person (subject to change). The ship will provide a guideline for tipping, howev­er, tipping can be done at each person's discretion
Please understand that space is limited in some categories. To be assured of getting the cabin you desire, send your deposit early. Space is on a first come, first serve basis. MasterCard, Visa, Ameri­can Express, and Discover are accepted for pay­ment of the cruise. 
FIRST PAYMENT 
To secure your reservation, complete the registration form below and include a deposit of $150 per person or $250 per person for a triple, quad cabin, balcony, or a specific cabin on the ship (mid-ship, forward, aft, etc.) and mail to the address on the form or you may call: SonShine Promotions at 865-278-3681 or 832-392-6076. If paying via check, make payable to SonShine Promotions and mail with your reservation form. 
SonShine Promotions 
PO BOX 99 
Sharps Chapel, TN 37866 
SECOND PAYMENT 
Your next payment will be due on or before September 1st in the amount of half the balance. 
FINAL PAYMENT 
If booking after Oct 17th, payment in full will be required upon booking.